Name: Dellapero Grance
Previous Shinigami: Zane Hataro
Class:10
History:StoryZane was born in the capital of Japan, Tokyo, formerly known as Edo during that time period. He was son to one of the emperor Oda's maidens and one of his frontline generals. He had lived with his mother through most of childhood up till age eight. At that time he began his training with his brother to join the Oda army in a later time period. He mainly trained in the arts of Kendo and sukan with the sword and spear. Over a five-year span, his training continue until the time came that he was recruited into the army as a corperal with his brother under the same battalion lead by his father. Zane praticipated in several battles until age 17 where things started to change. It was the battle of mitogawa and his father had been shot down by an ambush unit. He himself stayed to buy his brother,best friend from the army,and allys time to escape from the assault. He was kiled in the process obviously due to being highly out-numbered. ALthough, he did kill over thirty men before he fell and gave the others time to escape.
Zane awoke later attache3d to the site where he was killed. Everyone was gone now, and he was in some strange form. The form of a dead soul. He was lockied there with some type of chain and couldn't leave. After three months of solitude, he noticed tehc hain was getting smaller and smaller. Zane really didn't know what to think of it, so he just ignored it for the time being. by the fifth month the chain broke and Zane was turned into a gillian hollow.
As a gillian, Zane spent most of his time devouring the lost souls of dead spldiers and occasional ate a few other hollows. After a year in the war-feild, he moved to the Menos Forest to devour more hollows in his thirst for power. During his time as a gillian in the battle feild, he found out devouring hollows gave more power then mear souls. Eventually, Zane and a group of other hollows got in a klarge brawl and fused together into a Menos Grande.
Zane's willpower far surpassed that of the other hollows conjoined in the Menos, thus his personality toke over the thing. He then continued to feed and even more hollows and even some Menos for years until he entered the nexts tage of evolution.
Zane became an adjuhace and surpassed the strength of every other hollow in the forest making him the leader of the forest for the time being. He ordered sacrifices brought to him each day, or else he would go on blind rampage sin the forest, killing and devouring every hollow in sight.
After eating his ten thousandth hollow, Zane evoulved yet again into the most powerful of hollows. A vasto Lordes. As a vasto, Zane started to resurface to the living realm more often to devour more human souls. Hollow souls did indeed give more power to him, but the humans tasted far better. He fought many shinigami as well in the world and killed over twenty before he was confronted by one of the Captains. Zane thought it was just another shinigami and proceeded to attack. He was winning gaainst the soul reaper until they user bankai. The shinigami's zanpakto speciality was fire and burned Zane's entire body up to the third degree until teh shinigami finally ended it and decapitated him with their zanpakto. However, the hollow, as a last resort to live used it's special ability to seal itself inside the soul that was being transfered to the soul society because of the purification process
. It remained dorment for the time being.
Zane had lost all his memories of being a hollow once he arrived in the soul society and was rather confused about what had happened. He wondered aimlessly through rukongo, trying to find answers to the many questions he had. He found out quiet a few things, but none that he really cared for. After two months, Zane found his best-friend from the world of the living as a shinigami. From that point on his friend trained Zane into becoming a shinigami. It was a very long process, but by the ending result it was worth it. Zane never did learn anything about kido or care for it, but he learned alot about his zanpakto and shunpo skill. He had developed quickly in the art of shunpo, quickly surpassing his friend, and learned his shikai very quickly as well.
Zane was then assigned as third seat of squad 6 and served loyaly for over two-hundred years, always training to try and gain further power. On a friday afternoon, his friend had came at the door again, it had bene awhile since they spoke to eachother, so they naturally had a long conversation over what went on in the last two hundred years. By the end of the conversation, Zane's best-friend
, Hanzo had mentioned that he had obtained the power of bankai. Zane had always wanted to obtain bankai, but never knew how to obtain it and never thought of asking the captain for training, so he requested his friend to help him achieve bankai. His friend accepted and began the training quickly. There were many life-threatening test involved in trying to obtain his bankai, but after three-hundred years, he had finally unlocked it. The two then parted ways yet again.
It wasn't long before people found out of his abilities in bankai and he was promoted to captain of squad 11 for the time being. Although, after five years of being captain, he started having odd dreams. He dreamed he was a hollow killing shinigami and other hollows. it was indeed odd and he didn't know why he was seeing these things. Ten years later yet another unusual happening occured, he had the dream of being burned alive as a Vasto Lordes and actually felt the burns on his right-arm. The next morning when he awoke, his entire arm was scarred out of no where with third degree burns. He went to the medic area to try and have the arm healed, but it was ireversable by even the most advanced healing techniques.He later had a seal constructed by the 12th squad of Research and Development for his entire right-arm to seal away some of his high spiritual pressure and cover the scars of his arm.
Twenty years later, he heard a rumor that someone with a similer appearance had just been enstated in the sixth squad as ninteenth seat. He went to confrim this and found out it was his brother from back in the world of the living. He barely remembered anything about him since he was in the soul society so long, but he did manage to remember they were brothers, that was about it though. Zane toke his brother to private areas to train him to try and obtain shikai and bankai as well, but, an unfortunate occurance was that once his brotehr unlocked shikai, it was the same as his own. The same zanpakto, He knew it was against shinigami law for two soul reapers to have the same zanpakto, so he tryed to conceal the soul society from knowing of his brother's shikai. No one found out for awhile, but nothing lasts forever. By the time Zane was 700 his brother was found out and a death-match was ordered by the Soul Society. They were both poisoned iwth a type of drug to make eachother think the other was a hollow so that they would fight without holding back. He woke up the next day, with his mind wiped of the data to prevent him from rebelling.
Later on in life, Zane found out about the secrets hidden in his mind through the help of another entity, though, who it was was unknown. After which, he left the Soul Society Unfourtunantly, a year after his leaving, Zane was taken over by his inner hollow in a deserted ruins and went on a destructive rage for hours on end, until he finally entered the Inversed Hollow form and his body was under the control of Dellapero, his previous inner hollow.
Personality:Dellapero, at most times usually is a rather lazy person who doesn't like wasting time with mindless botter and annoyances. He does, however waste no time in killing such things if there is a need to do so. Dellapero doesn't like to use his true power much either, hence why he has the majority of it sealed up in his instinctual form. He doesn't get angry often either, and when he does, he usually still acts somewhat calm. Raienzo hates being lead by an unworthy or weak person/people. Raienzo isn't exactly the type of person to get into different emotions. Most times he is mainly always very calm in facial expression and voice tone. It is very rare he act different, but it is possible if he is ticked off enough. The only things he really hates are shinigami and ignorent punks.
Appearance: Normal -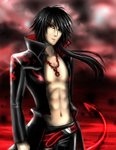 Instinct-
Rp Sample:http://bleach-serenity.forumotion.com/seireitei-f21/yuuri-vs-dellapero-t1567.htm
Strength, 55
Endurance,54
Agility, 55
Spirit Power, 50
Spirit Control 25
Magic : 25