Instinct-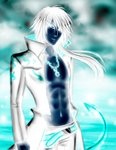 Hollow Powers:
Instant Regeneration- Dellapero has the ability to regenerate his own cells at such a rapid rate that he can restore limbs in just a few seconds and small cutts and wounds in a instant, He, however, can not restore internal organs..
Black Death Cero- This is Dellapero's one and only type of cero, It is a dark blue, almost black color and has the power of three normal cero combined. It has more energy drain as a downfall, but still can inflict high damage to most any target.
Cooldown:2 for one, 5 for two at once.
Hierro- Dellapero has the ability to generate his spiritual energy into a Hierro of powerful strength that allows him to fight shinigami with their zanpakto, bare-handed. This also can lower the damage of most attacks that hit him. His Hierro is said to be equivilant to the strongest of espada in their ressurection state.
Black Cavity- Unlike normal, Dellapero can open garganta in a instant at any location he sees. This allows for quick escape when need be.
Persique- Dellapero has a highly advanced Persique that allows him to sense even the smallest change in spiritual energy. This lets him predict when a target will use kido, transform, and even sense their exact movements.
Eternal Youth- Dellapero has the ability to stay young forever, making him immortal to death by aging. He will stay physically at an age of 25.
Poison Reishi- When a person trys to absorb Dellaperos reiatsu or reishi, it will act as a poison on their reiatsu and actually eat away at it until they are left knocked out from loss of reiatsu. At which point, the reiatsu poison will vanish.
Instinct- By activateing his stage of instinct, Dellapero can ignore any ailments of paralyzation, injury, pain, or anything that would normally hinder a person from fighting. Once this stage is activated, Raienzo gains a rather large boost in strength, durability, and speed.
Zanpakto Sealed Appearance: A simple 58 inch solid black long-sword.
Shikai Incantation: Tear Away at this Wretched world.
Shikai Appearance: Dellapero's shikai takes the form of a large broad sword 88 inchs in length and width.
Shikai Ability: Dellaperos zanpakto has one sole power. It can manipulate a form of black energy that adapts both burning and physical characteristics. This burns anyone except for the user.
Shikai Techniques.
Iron Maiden- Dellapero will quickly cutt into the air while looking at the target while energy slowly moves from the tip of the blade. By the final slash of the blade, this will form a small coffin of energy, The next instant, a halve of a coffin will appear to both sides of the target and enclose rapidly at extreme speeds. These coffins are filled with spikes, hence why the attack is called iron-maiden. This will leave the opponent impaled in every inch of the body, making survival almost impossible. However, due to the process, it is rather easy to dodge.
Duration- 1 post charge,
Cooldown- 5 posts
Blast of Infinity- Dellapero will focus energy along the blade of his zanpakto and swing it in a verticle, horizonta, or diagnol fashion. The energy is then dispersed in a blast of burning black energy that takes the shape of a skull.
Cooldown: 3 posts
Sphere of damnation- Dellapero quickly cuts into the earth around him, unleahsing black energy from the tip of his blade. The next instant, a feild equal to the radius of the circle in the earth will shoot up with a massiv defencive force. This feild takes the shape of the earth cutt. It does not always have to be a sphere.
World of Despair- Dellapero will get close-range with a target and swing his zanpakto as if about to cutt them. However, once the blade makes contact with the target or anything they are holding/wearing. A sphere of soulless black energy will envelop himself and the target. This makes the sense of sight useless, as the energy devours all sources of light in the sphere. The sphere is 6 by 7 feet in length.
Duration- 10 posts
Cooldown= 5 posts.
Clone of the Damned- Dellapero will actually unleash rapid amounts of energy from his sword, molding it slowly into a clone of himself. The energy will then solidify into a clone with all the power of himself.
Duration- 3 posts
Cooldown- 15 posts
Bankai Appearance: In bankai, Dellapero's zanpakto actually takes the form of two small 3 by 3 inch daggers of soulless black steel.
Bankai Ability: Dellapero's bankai is roughly the same as his shikai, except now, he can use attacks in much more rapid repitition as well as in stronger combination. A passiv attack he has now is to unleash black slashs of energy, such as the blast of infinity, just as a weaker version.
Bankai Technique:
Black Death- Dellaperowill slash both daggers through the air while black energy is dispursed through the tip of the blades. Once this is finished, energy will form a small coffin, however, unlike the old coffin, this one represents an egiption surcofigous. The next instsnt, a coffin will envelop the target at high-speed, such as black coffin, then explode. This makes a explosion of black energy capeable of even damaging himself if he gets no distance.
Cooldown: Ten posts
Cero of Obliteration- Dellapero will make rapid slashs in the air at such high-speed, that one may find it imposisble to see his handmovements. By combining the dark-energy of his zanpakto with his hollow powers, Raienzo can then unleah a massiv beam of black energy that is a mix of his bankai's power and Black Death Cero. The power of this has a destructive force that can distort the fabric of space itself, much like the gran rey cero used by espada.Though it's power is even above that of the Cero Oscuras.
Cooldown: ten posts.
Akumarey- Dellapero can shoot a rey of swirling black energy that if it hit's the target in the chest or anywhere near the heart, it will literally cause their organs to expand rapidly until they explode, causing extreme pain in the process. This can be stoped by merely drinking or eating an item containing holy properties.
Duration- 3 posts
Cooldown: 20 posts
Natural Abilities
After-mark- Dellapero will slash at a target with such force, that the strength of the slash actually causes the wind to move toward the opponent with such force, that it will cutt like if it actually had hit.
Passiv
Hyper-Speed-Combat- Dellapero can move at such high speeds, that he can make a moltitude of after-images from raw-speed alone. He can se this in several ways. One of which is running in circles around a target, making it almost, if not fully impossible to track his movements. Second is using shunido at such a fast-pace, that he appears at several locations at once making clone-like beings. Some of them can deal damage, but once they take damage every clone gets cutt, meanwhile if it can't deal damage and is a fake, then all attacks will just pass through it. Only people with very good skill in persique or spiritual pressure detection can sense what the real one is.
Rp Sample:http://bleach-serenity.forumotion.com/seireitei-f21/yuuri-vs-dellapero-t1567.htm
Strength, 55
Endurance,54
Agility, 55
Spirit Power, 50
Spirit Control 25
Magic : 25